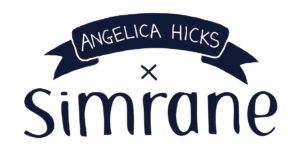 Artist Angelica Hicks gives a reinterpretation of a Simrane print
For summer 2022, Angelica Hicks had fun redesigning one of our exclusive print called "City Palace". Imagining a drawing with a "perfect imperfection", she wished to give tribute to our printers and their skills. Each of our pieces is unique thanks to woodblock printing.
Angelica is a textile and craftmanship enthusiast. Watercolor is one of her favorite media. She has know Simrane for a long time and accepted our invitation to create a unique illustration.
Based on her original drawing, we printed a limited edition of 80 tee-shirts (100% cotton). This exclusive product celebrates the long-term and inspiring relationship between Simrane and artists.
Angelica Hicks was interviewed by another artist, Julia Felsenthal (her Instagram: @julesandbinoculars)
#artysimrane
---
Angelica, your work often plays with textile and print. You're also the granddaughter of famed textile designer David Hicks. Can you tell me a little about that inheritance?
I'm very proud to be! He's amazing. Maybe not a direct inspiration, because I'm not an interior designer, but more like an inspiration as a character. HIs confidence in his own aesthetic and his creativity is something that I very much admire and hope I have somewhat inherited. He was his best PR person. Also his fearlessness, doing something that people weren't doing before: that's very cool.
Did you inherit a love of prints from him?
Yeah for sure. I guess when I was 14 and insecure I was more monochromatic. But as soon as my eyes were open to vintage shopping…. I was lucky to grow up in a family of very aesthetically driven individuals. I was also the only grandchild to know my grandfather. One of my earliest memories was being in a car with him in the countryside, driving through fields of daffodils. He was like: "Daffodils are horrible. They are the wrong yellow. Murder the daffodils!" I was in the front seat jumping around like, "murder the daffodils!" It was a formative moment.
Obviously prints can clash if they don't go together, but that's so subjective. I like to mix, in interiors and in clothing. The more mixed and clashing the better.
What draws you to block prints in particular?
You see the artisan behind it, the handicraft. It's perfect imperfections. Before I started doing illustrations, I really liked doing hand silk-screening because it's the same: the imperfections are what makes every piece unique. It looks man-made. There is the space for difference.
The interplay between word and illustrations is something I've always been subconsciously inspired by. Illustration has a joyfulness.
Tell me a little bit about how you came up with the image for your Simrane tee shirt?
I guess this is kind of in line with the way every block printed piece becomes a one-off. I was sent swatches and I was like, I could just copy this in watercolor, or I could give it a trompe l'oeil effect of movement, which renders it different from the swatch. I chose the print that looked best with this effect. The middle part is from a different swatch. The way it curves, that's what I wanted. I thought it was cool to put something like that on a flat surface. I'm interested to see what it looks like when you're wearing it.
Your work tends to be very playful, and often based on visual puns. There's a lot of confidence to your humor. Have you always had that?
No. I wasn't "cool" at school, but I also didn't like the cool people. I was quite shy. I used to go so red when I'd speak. But on Facebook chat I could be funny and not care. I started doing illustrations when I was 21. I was at University College London doing art history. Academia was not for me. I'd rejected art school because of my creative family. I wanted to do finance or something, but it didn't work out. I think there's an element of genetics not in my favor. In the last six months of university, I needed to have something that made me look forward to waking up, because going to the library didn't do that for me. I started doing fashion illustrations. I just thought there was a gap in the market for some humor. Everything was really whimsical and ethereal. I wasn't into that. On Instagram, especially, fashion existed in such a weird way. I remember it was February and Alessandro Michele had just started at Gucci, and I was like wow, this is cool, a bit different from what's happened before. Look at these big glasses. It felt like a turning moment. It was almost like what I couldn't do with history of art at UCL, I enjoyed doing with illustration and fashion.
Like you have to do the thing you're not supposed to be do…
For sure. If I had not gone to UCL, if I had gone to art school, I do not think I would be doing what I do now. Every frustration led to it.
Are there artists or designers you count as touchstones, whose work helped you figure out your own practice?
I loved the kid's book Cautionary Tales for Children by Hilaire Belloc, with illustrations by Basil Temple Blackwood. I wasn't super into comics when I was younger or comic book aesthetics. I think I've lied about that before [in interviews]. It was more like children's books. Speech bubbles annoyed me. When I do speech bubbles it's more cartoon than comic. Later on it was Raymond Pettibon. Rose Wylie is a new one. Louise Bourgeois when I was younger. I think the interplay between word and illustrations is something I've always been subconsciously inspired by. Illustration has a joyfulness. Bringing it back to Simrane, the trompe l'oeil effect of the fabric being on the tee shirt, it's playful.
Do you feel any angst over the distinction people draw between illustrator and fine artist?
One hundred percent. I have these two friends. They're both fine artists, doing really well. The guy is like, "you're an illustrator." The girl is like, "you're an artist. Illustrating is art. " The way I view it: if my friend has written a children's book and comes to me and says I'd like you to illustrate this children's book, that's illustration. If you are given creative freedom, if the creative concept is yours as well, that's art—isn't it?
I've seen your homes featured in a couple magazines, so I know you're interested in decorating too. Are you a homebody? What nurtures your inspiration in your daily life?
I moved to my current apartment in Carroll Gardens, Brooklyn a year ago [with my boyfriend]. In terms of total living space, this is on the smaller side. I like having my art on the walls. I love contributing to my own home. [She points to a lampshade which she's decorated with 19th-century style silhouettes of people]. I painted this lampshade because it was dirty and I needed to cover that up. [She points to a checkerboard table]. This I found on the street and sanded down and painted. We have a big dining table that spans the whole kitchen. We'll have eight people over for dinner. Normally we'll serve ravioli. I've got a painting I did of my grandfather right over the dining table, looking at everyone, judging them. [laughs].
I have an office/studio space in downtown Brooklyn, which is a nice 20 minute walk. I finally have separation between work and living. I love having people over. My home is small but I love it. It feels very cozy and it's nice to share that with other people. I've only ever rented. I always paint on the walls, because you can always paint over when you leave. I want to paint a tree above the bed. We have these two ridiculous [real] trees on either side, so then it would be the real and the fake. I never had plants before. I was like, it's so stupid, all these people in New York have plants. I was being a bit of my grandfather. But honestly it's quite nice to have them. It's nice to water them. It takes a long time. but It's quite a nice meditative moment. You can't really do anything else at the same time.
See our t-shirt Angelica Hicks x Simrane
---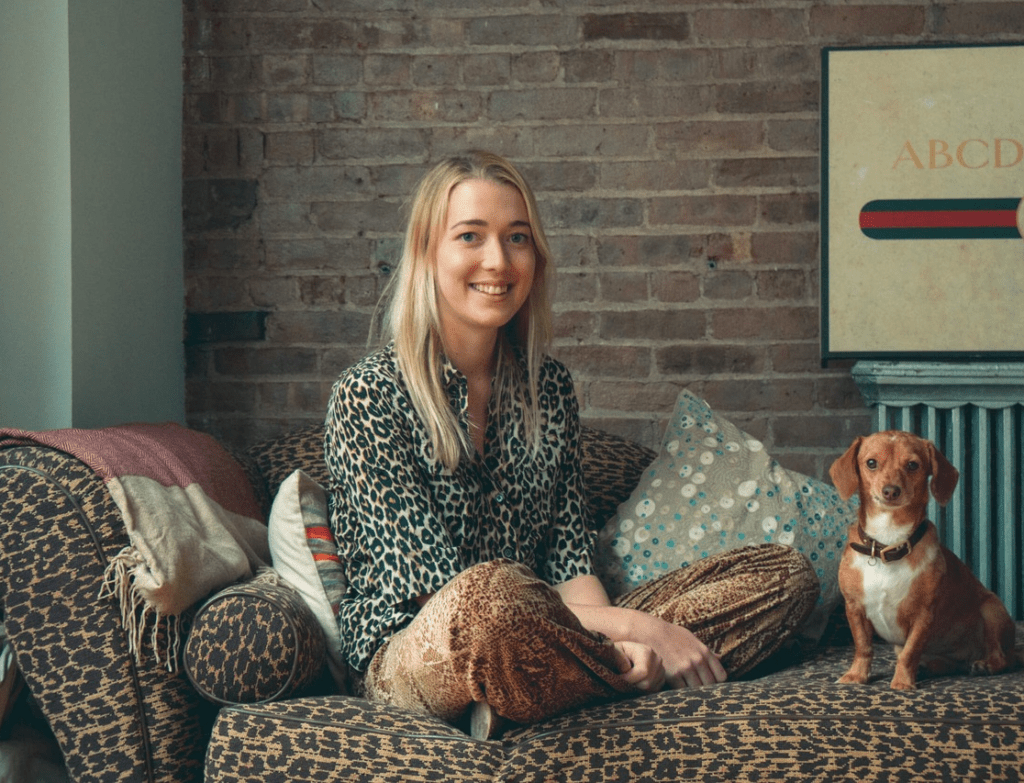 Angelica Hicks is an illustator based in New-York. She has collaborated with various brands and institutions including GUCCI, art production founds and the Metropolitan Museum of Art. Her first book, « tongue in chic » was published in 2017.